Not all voles are the same
Surely you have heard something about voles. The most famous is probably Common vole, which is frequently accused as a culprit for its taste for agricultural crops. But not all voles are the same. Hidden in the wetlands of the Danubian Lowland, the Pannonian root vole lives. Unlike some of its relatives, pannonian root vole doesn't like crops, but it is an important part of the wetlands habitat.
The project LIFE Microtus II follows a previous successful project implemented from 2010 to 2016. It is focused on the protection of this priority species of European interest through restoring its habitat and building bio-corridors. Pannonian root vole is a protected species that lives in the vicinity of rivers, wetlands and wet meadows. In addition, its habitat is disappearing due to intensification of agricultural production, forestry and watercourse regulation. By protecting a rare species, we protect not only the animal itself, but also many other species that live in the same habitat. The Pannonian Root Vole is thus an umbrella species that protects other wetland species as well.
The project team (BROZ and PRIF UK) headed to explore the Netherlands in September 2022. The reason is that a relative of the pannonian root vole lives here. Another endemic subspecies – Microtus oeconomus arenicola has found a refuge there after the ice age.
Project title: Restoration of habitats for root vole *Microtus oeconomus mehelyi
 Financial scheme: LIFE Programme, Environment sub-programme, Nature and biodiversity
 Project acronym: LIFE Microtus II
 Coordinating beneficiary:
Bratislavské regionálne ochranárske združenie (SVK) – Regional association for Nature conservation and Sustainable development
 Associated beneficiaries:
Výskumný ústav vodného hospodárstva (SVK) – Water Research Institute
Univerzita Komenského v Bratislave (SVK) – Comenius University in Bratislava
Štátna ochrana prírody Slovenskej republiky (SVK) – State Nature Conservancy of the Slovak Republic
Észak-dunántúli Vízügyi Igazgatóság (HUN) – North-Transdanubian Water Directorate
Pisztráng Kör Waldorf Természetvédő és Természejáró Egyesület (HUN) – Trout Circle Association
Nationalparkgesellschaft Neusiedler See – Seewinkel (AUT) – National park Neusiedler See – Seewinkel
Main objective:
The project LIFE Microtus II is primarily focused on the restoration of habitats for the root vole (Microtus oeconomus mehelyi) through of one-time conservation measures to restore or modify wetland habitats such as swamps, marshes, bogs, wet meadows, naturally flowing and still water places, and reintroduction of sound sustainable management. Project measures will create habitats for root voles with an area of 580 hectares.
Specific objectives:
Restoration of selected wetland habitats
Restoration of selected wet meadows habitats and buffer riparian zones between wetlands and arable land
Creation of bio-corridors and stepping stones for target species
Acquisition of relevant scientific data on target species, especially on genetic structure of the population and quite new threat of competition with invasive species
Creation of conditions (infrastructure and capacity) to reach favourable state of wetland habitats and ensure long-term sustainable use of their services in cooperation with various local stakeholders
Increase the awareness of stakeholders and public on target species, conservation measures and importance of wetlands ecosystems
Central European tundra vole (Microtus oeconomus mehelyi) or a root vole is a glacial relict of a subspecies Tundra vole (Microtus oeconomus). Tundra vole is a species with holarctic distribution, it is found in the area from northern Finland, eastern Germany, through Poland, Belarus, northern and central European part of Russia to the eastern Alaska. Isolated relict populations were found in Netherlands, southern Scandinavia, Finnish coastal areas and in the western part of the Pannonian Basin.
The European population consists of several subspecies: Microtus oeconomus ratticeps in the north of Russia; Microtus oeconomus medius in Scandinavia; Microtus oeconomus stimmingi from Germany through Poland to Russia; Microtus oeconomus finmorchicus in Norway and Vesterålen, Microtus oeconomus arenicola in Netherlands and Microtus oeconomus mehelyi in the western part of the Pannonian Basin.
The occurrence of the subspecies Microtus oeconomus mehelyi is restricted to locations around Neusiedler and Seewinkel lakes in Austria that are directly connected to Hungarian ones near Fertő lake. Another population lives in the nearby system of fragmented wetlands Hanság east of the lake. Isolated population is found around Balaton lake; small populations live on Danube island Szigetköz. From there, the area of species distribution stretches to Slovakia, where the occurrence of root vole was recorded in the Danube Lowland, near Szigetköz as well as in a number of other wetland sites in the lowland. Isolated population was found in Parížske močiare marshes in the Hronská pahorkatina highlands, which represents the farthest eastern location of the root vole occurrence so far known.
The main part of the Root vole fodder consists of sedge (Carex), reed (Phragmites), bulrush (Typha) and grass (eg. Molinia). The mating season lasts from May to September, the number of litters is 1-3 per year and the number of youngsters is from 5 to 11. The spatial activity of the root vole is not great, it is restricted by the habitat characteristics and its size.
Females have their first litter in the spring still in their wintering habitats. Through late spring voles search wetter summer habitats and in late summer they find dryer habitat for wintering. These seasonal migrations might be influenced by local habitat conditions. The connection of populations by bio-corridors is one of important factors to avoid the populations isolation.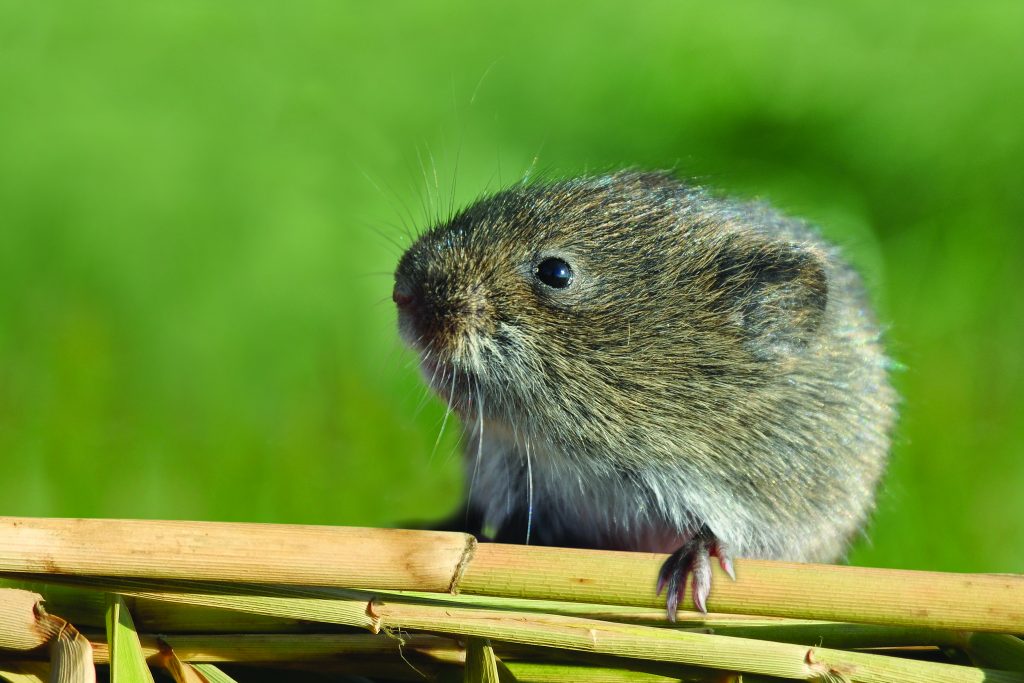 SKUEV1227 Čiližské močiare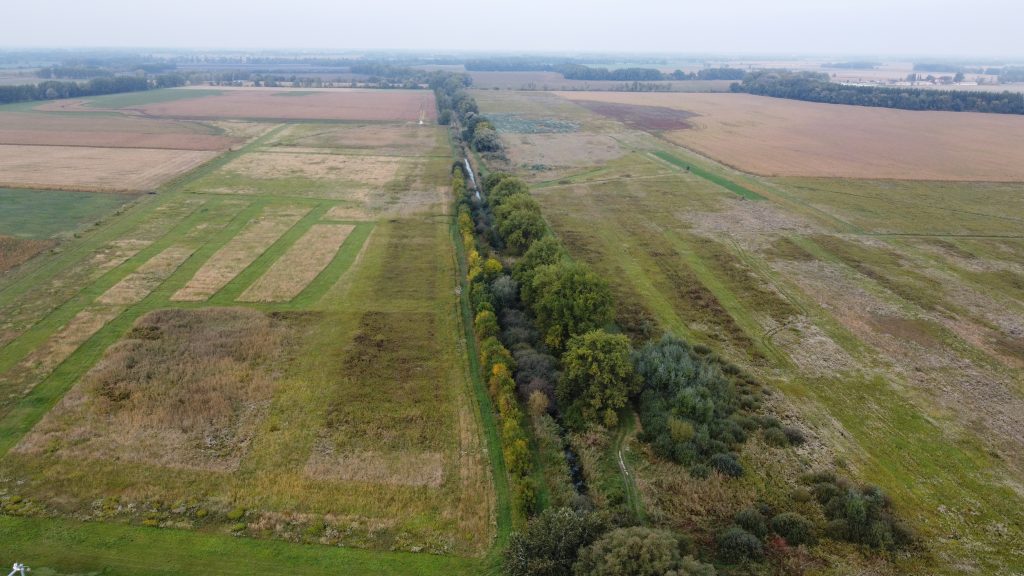 SKUEV0090 Dunajské luhy
SKUEV 0077 Dunajské trstiny
A.1 Elaboration of databases on land use and ownership within the area
A.2 Designing the network of bio-corridors and stepping stones
A.3 Study and technical documentation on wetlands restoration
B.1 Land purchase and lease
C.1 Restoration of habitats for root vole in Slovakia
C.2 Restoration of habitats for root vole in Hungary
C.3 Restoration of habitats for root vole in Austria
C.4 Creation of bio-corridors and stepping stones
C.5 Regulation of negative impacts on habitats of root vole
D.1 Monitoring of populations and habitats of the root vole
D.2 Monitoring of spatial activity and habitat use of root vole populations
D.3 Monitoring of socio-economic impact of project actions
D.4 Monitoring of ecosystem services
D.5 Monitoring of output indicators
E.1 Public awareness raising
E.2 Education aimed at schools and public
E.3 Education and training aimed at key stakeholders and decision makers in the project area
E.4 Exchange and transfer of information, knowledge and lessons learnt, networking with other projects,
replication of project activities
F.1 Project management
2023
Restoration of 2 hectares of wetlands on Dedinský ostrov as part of SKUEV0090 Danube Floodplains (C.1)
Improvement of 0.35 hectares of wetlands in Istragov as part of SKUEV0090 Danube Floodplains (C.1)
Creation of a 100-meter bike corridor on Dedinský ostrov as part of SKUEV0090 Danube Floodplains (C.4) I
nstallation of 10 agate poles in SKUEV1227 Čiližské Marshes (C.5)
2022
Production of project bags (E.1)
Improvement of 13 hectares of wetlands in SKUEV1227 Čiližské Marshes (C.1)
Organization of a study tour to Balaton-felvidéki National Park (E.3)
Visit to 5 projects in the Netherlands and 1 in Italy as part of networking (E.4)
Visit to the educational Microtus minibus in Slovakia on the 5 localities
Installation of 227 agate poles in SKUEV0077 Danube Reeds (C.5)
delivery of a draft study for wetland restoration (A.3)
32 ha of purchased land in SKUEV0077 Dunajské trstiny and SKUEV1227 Čiližské močiare (B.1)
restoration of 70 ha of wetlands by excavation the supply channel in Istragov – SKUEV0090 Dunajské luhy (C.1)
selection of an alternative site for the restoration of wetlands in Hungary – Kucsérok – HUFH30004 Szigetköz (C.2)
restoration of 33 ha by mowing and elimination of invasive species in Austria  – AT1110137 Neusiedler See (C.3)
planting of a windbreak on the border of SKUEV1227 Čiližské močiare in the length of 300 meters (C.4)
excavation the supply channel in Istragov in the length of 1500 m in SKUEV0090 Dunajské luhy (C.4)
demarcation of part of the border of SKUEV1227 Čiližské močiare by 12 agate poles beside the planted trees (C.5)
production of project tea cups – Keepcups (E.1)
production of project wallets (E.1)
workshop for nature conservation experts focused on wetland restoration (E.4)
2021
delivery of a professional study for the renewal of biocorridors and stepping stones (A.2)
0.43 ha of purchased land in SKUEV0077 Dunajské trstiny (B.1)
restoration of 0.2 ha of wetlands by deepening the depression and digging the supply channel in Istragov – SKUEV0090 Dunajské luhy (C.1)
SKUEV0090 Dunajské luhy: creation of a 550 m biocorridor by deepening an existing canal (C.4)
planting of a windbreak on the border of SKUEV1227 Čiližské močiare in the length of 350 meters (C.4)
SKUEV0077 Dunajské trstiny: Planting trees on forest soil as stepping stones and demarcation of land boundaries in the use of BROZ. The total area is 2.34 hectares in length of 1720 meters. (C.4)
demarcation of part of the UEV Dunajské trstiny (C.5)
employment of a SNC ranger since 1.11.2021 (C.5)
monitoring of populations and habitat and monitoring of spatial activity and habitat use of the Pannonian root vole (D.1, D.2)
selection of filmmaker (E.1)
project t-shirt printing (E.1)
participation in the conference How to Retain Water in the Landscape and in the Virtual LIFE Platform meeting Connectivity – Lessons from LIFE on ecological connectivity towards a coherent, functional and resilient network of protected areas (E.4)
2020
117,8 hectares purchased in cadastral areas of Číčov, Klížska Nemá, Veľké Kosihy and Gabčíkovo concerning SKUEV0077 Dunajské trstiny, SKUEV0227, SKUEV1227 Čiližské močiare and SKUEV0090 Dunajské luhy as well as SKCHVU007 Dunajské luhy (B.1)
8,38 hectares of grassland habitat in SKUEV1227 Čilížske močiare restored (C.1)
5,50 hectares of grassland habitat in SKUEV0090 Dunajské luhy restored (C.1)
30 hectares along the reed belt of AT1110137 Neusiedler See (south and north of the Biological Station Illmitz) restored by adjusting of cattle grazing (C.3)
6,6 km of biocorridors created (C.4)
ranger/field worker has been employed since 5/2020 by SNC (C.5)
monitoring of populations and habitats of the root vole and monitoring of spatial activity and habitat use of root vole populations carried out (D.1, D.2)
the KPI table submitted via the webtool and sent for verification within the Progress report in February 2020 (D.5)
the information leaflet which was designed as a postcard printed in December 2020 (E.1)
specialized workshop for water management personnel organized by EV in September 2020 (E.3)
2019
database of land owners created (B.1)
5,27 hectares of land acquired in cadastral areas of Čiližská Radvaň, Ižop Číčov, Klížska Nemá, Veľké Kosihy, and Marcelová concerning the SKUEV0227, SKUEV1227 Čiližské močiare, SKUEV0182, SKUEV1182 Číčovské luhy, SKUEV0077 Dunajské trstiny and SKUEV0395 Pohrebište (B.1)
12,28 hectares of grassland habitat in SKUEV1227 Čilížske močiare restored (C.1)
monitoring of populations and habitats of the root vole and monitoring of spatial activity and habitat use of root vole populations carried out (D.1, D.2)
1st socio-economic monitoring carried out (D.3)
external provider for ecosystem services selected (D.4)
1st set of promotional material printed and distributed – Hand printed T-shirts, notebooks and biodegradable pens (E.1)
Microtus minibus for open air laboratory was procured, contracted and delivered in June 2019 (E.2)
School education programme in Hungary and Slovakia was made, with first events carried out in September 2019 with 260 participants (E.2)
3 workshops organized for for officers and local stakeholders like farmers and hunters and for school children from Slovakia and Hungary (E.3)
organization of 1st Conference – Györ, October 2019 (E.4)
one workshop for officers and one training event for students organised (E.4)
2018
project core personnel hired – project manager, financial manager, project assistant, field assistant (F.1)
1,81 hectares of land acquired in cadastral areas of Číčov and Klížska Nemá and concerning SKUEV0077 Dunajské trstiny and SKUEV0227, SKUEV1227 Čiližské močiare and partly also SKCHVU007 Dunajské luhy (B.1)
project website launched (E.1)
Jakub Sigmund – project manager
sigmund(at)broz.sk
Miška Kalivodová – Administrative, PR and education assistant
kalivodova(at)broz.sk
Miriam Babrňáková – financial manager
babrnakova(at)broz.sk