Our development project in Petržalka was successful. The restored steep river bank, which we implemented here in March 2021, has experienced its inhabitants. Gradually, up to 500 pairs of Sand Martins nested here, which enlivened this part of Bratislava's nature with their aerial acrobatics.
It seems that the largest nesting colony this year on the Slovak section of the Danube is located in Bratislava Petržalka. It is possible to observe them from the bank, although a much more beautiful view is from the water. However, they definitely need to be respected and not disturbed unnecessarily. We have placed a barrier on the shore so that the part of the beach that is commonly used by people to relax remains undisturbed at the time of the nesting of these small swallowtails. We believe that everyone will be as enthusiastic about the presence of Sand Martins as we are and will allow them to bring the young out peacefully.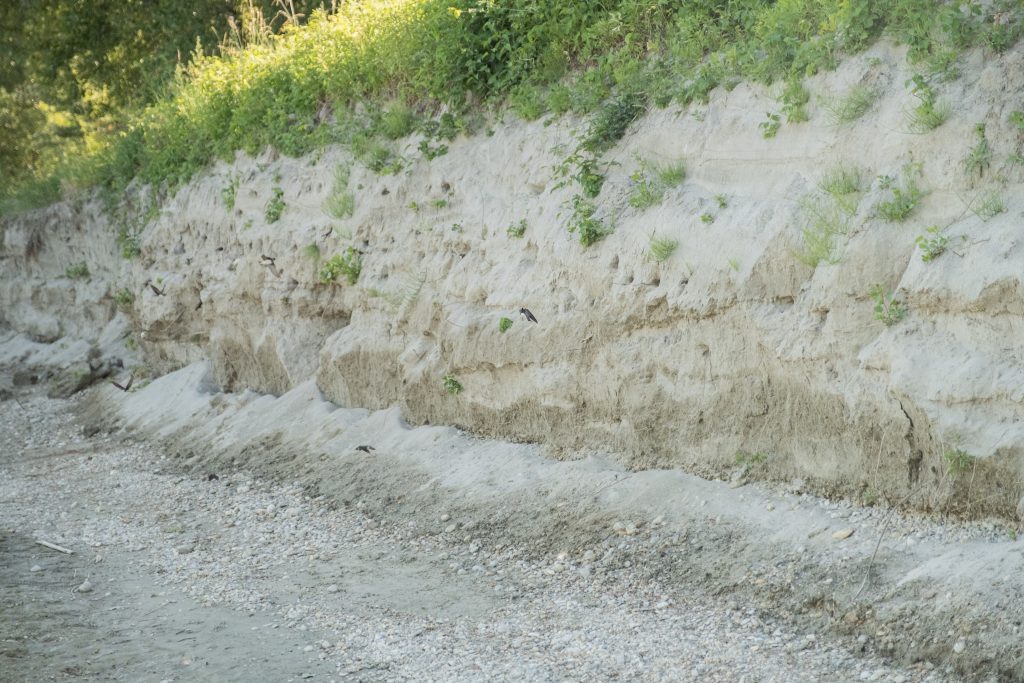 The river bank was modified in a total length of 420 m, while the modification was divided into 5 sections. The works do not concern the areas most used as beaches or parts overgrown with a continuous tree floor. The modification of the shoreline creates steep walls of banks from 1.5 m to 2.0 m high, which from an ecological-biological point of view are suitable for the nesting of Sand Martins and Kingfishers.
The specific locality for the restoration of the steep river bank was selected on the basis of an expert study and corresponds to the section for the nesting of the Sand Martins in the past. The last nesting was recorded here in 2012. Since then, the degradation of the bank has progressed to such an extent that the Sand Martin in the locality has not been able to nest. Their re-nesting is the best proof that sometimes it is enough to help nature a little and she seizes the opportunities and pushes through.
By maintaining steep river banks in the years to come, we believe that we will be able to maintain a colony of Sand Martins in the capital city.